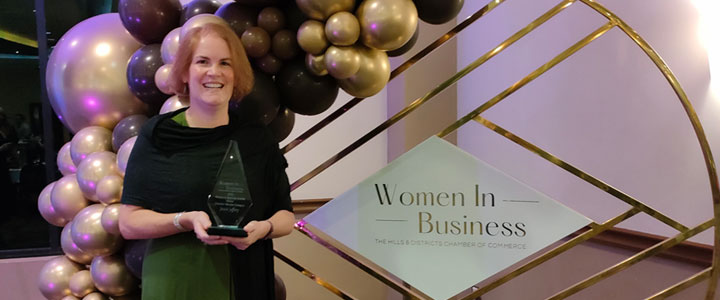 CyberGuru's Business Development Guru, Jessie Jeffery, won the inaugural Women in Business Award in the Chamber Member category held by the Hills & District Chamber of Commerce Inc. 
 
Jessie has been my rock since  CyberGuru's inception in 1997. After being the "silent partner" (as she has called it) for many years, joined me officially in the business in 2016. Across the years, she has brought and continues to bring great work to the table. Jessie has a passion for helping small and medium businesses, which is evident in the way she supports our clients. 
In accepting this award, Jessie noted, "I am proud to make a difference in the lives of other small businesses and not-for-profits." 
 
Congratulations also to Heather Rapkins, Chief Officer of Fun at Hummingbird House, who was the Women in Community winner as well as the other finalists and nominees. A big thank you to the Hills and Districts Chamber of Commerce, as well as Susanne Jones and Mandy Barker of the Women in Business committee.