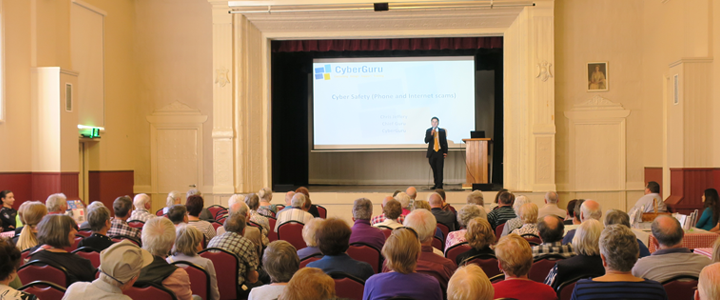 Last Friday 17 August, Chris Jeffery, Chief Guru of CyberGuru presented to over 80 senior citizens of the Brisbane's northside community on Cyber Safety, including both phone and internet scams at the Seniors Safety Forum.
The Seniors Safety Forum, the third of which Chris has presented, is an annual event held in the local area and hosted by Stirling Hinchliffe MP, Member for Sandgate and Councillor Jared Cassidy, Councillor for Deagon Ward, as part of Queensland Seniors Week.
In his session, Chris discussed a range of phone scams, including charity scams and the more recent NBN scams. He also addressed spamming and phishing, as well as tips for online shopping, passwords, internet security software, backups and more.
CyberGuru joined alongside other local organisations, including Council for the Ageing, Queensland Fire and Emergency Services, Queensland Ambulance Service, Queensland Police Service, All About Living Sandgate, Home Assist Secure Sandgate, iHear to discuss safety in the home and in the community in the joint forum.
Chris fielded a range of questions from the audience after the session and provided copies of The Little Black Book of Scams to all who visited his display.
We thank Stirling and Jared for having us. If you would like any information on cyber safety, or presenting at an event which you feel would benefit, please contact us.
If would like any information about Seniors Safety Forum or other upcoming events as part of Queensland Seniors Week, please visit the Queensland Seniors Week website.