Looking for ways to make your documents look great? There are some new impressive ways in which you can improve their look if you are running Microsoft Office 2010 or Microsoft Office 2013. One of the long-standing ways available within Microsoft Office is the use of Clipart, this has been improved with Online Pictures. Microsoft has also increased the fonts available within Microsoft Office and introduced stylistic sets into your documents to allow you to add various effects. You can also use new document templates without the need to start from scratch.
Text Effects and Typography to change font group and typography to enhance appearance
One of the features missing in newer versions of Microsoft Office is the WordArt feature. It has been removed and replaced with Text Effects. This enables you to use similar effects as WordArt without turning it into a graphic. Some fonts have been added in Microsoft Word and Publisher such as Calibri, Corbel, Candara and Cambria, which also allow for the use of stylistic sets to use calligraphy like appearances on some fonts. Simply highlight the text you wish to change, look for the Text Effects and Typography button in the Font group on the Home tab.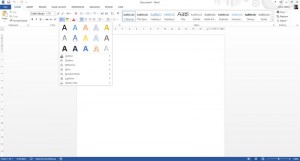 Online Pictures to increase visuals of your documents and presentations
Whilst it not at popular as it once was, Microsoft still has a large collection of media on Office.com that can be used both for professional and personal use. Unlike many commercial photography libraries, Microsoft provides its customers with the ability to download royalty-free images and clipart. You can find some 135,000 in this collection which you can under the Insert tab, Illustrations group followed by Online Pictures.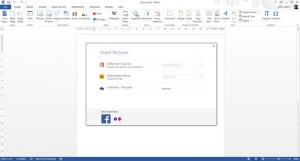 New document templates without the need to start from scratch
Microsoft has also revamped many of the templates in all of its products. When you create a new document from any Microsoft Office product, you are provided with a large selection of templates of which to choose from. Depending on the product you are using, you can also search from various collections.
If you would like a hand to learning some of these new and improved features available within Microsoft Office, please contact us for our Training solution today.