Looking for some ways to make your computer life easier and improve your productivity in Windows? In this article, we provide some hints and tips using the built in features within Windows. These screenshots have been taken in Windows 8.1 but will work equally well in Windows 7 and Windows 8 also.
Use Steps Recorder to create simple documentation
If you are looking to create simple documentation, why not use Windows' built-in Steps Recorder application (known as Problem Steps Recorder in Windows 7)? Open Steps Recorder from your Start menu or Start screen, and click Start Recording. It will take pictures of each step along the way and also put together a description of the step in words.
Pin files and folders onto your task bar
Did you know you can pin often-used files and folders onto your Windows task bar? This will enable you to have easy access to these without searching for them in Windows Explorer and File Explorer. When you have the file or folder you wish to pin, simply drag it to the task bar. You can reorder the position of the pinned folders and files also by clicking and dragging them.
Customise your Windows appearance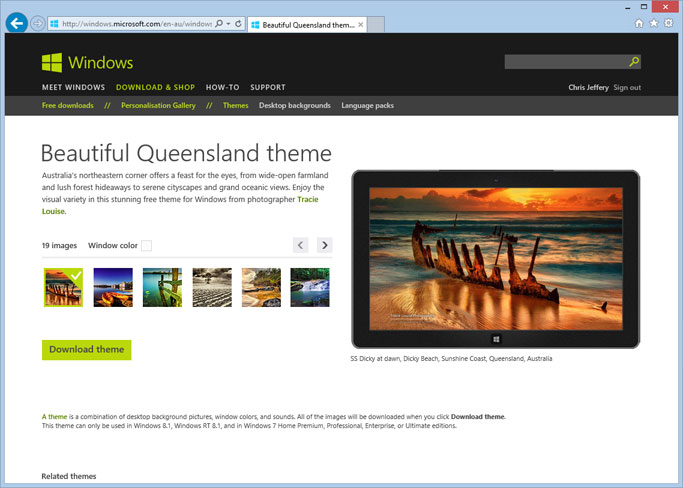 Bored of your existing desktop wallpapers Windows provides? You can access a range of free themes, wallpapers and language packs to enhance the appearance of Windows. There's even themes specifically featuring Queensland scenes! You can download these directly from Windows. Right-click on your desktop and click Personalise, then click Get more themes online. This will take you to the Personalisation Gallery (link open in new window).
Speed up your computer with ReadyBoost
Available in versions of Windows since Vista, ReadyBoost enables you to use to the available disk space on USB flash drives and other flash cards to increase the performance on devices with limited memory (such as laptops). Simply insert it into an available USB port or memory slot and click "Use with ReadyBoost" to give your computer a boost!
Use Windows XP Mode for legacy applications
Whilst Windows XP is nearly out of support, computers running programs designed for earlier versions of Windows may be a candidate to use Windows XP Mode, which is included as part of Windows 7 Professional, Enterprise and Ultimate editions as a way of running legacy applications.
Windows XP Mode can be downloaded for free from Microsoft's Windows XP Mode website (link opens in new window), however please note that this may still present security risks as if it was installed on your normal PC as it will not be patched or updated after this time.
CyberGuru can provide you and your organisation with even more advice to improve your productivity and teach you ways to help you get the most out of your computer. Why not contact us today to see how our Training computer solution could benefit you and your organisation.