Google has recently improved its search engine features for businesses (and not-for-profit organisations) to enable them to be easily found on its search engine whether or not you have a website. Known as Google My Business, businesses can connect directly with customers with Google Search, along with Maps and its social platform, Google+ at no cost.
Using Google My Business, you can enter your business' contact information, including phone number, address if supplied (along with a map), along with hours of operation. Google will then index this as part of its search engine. When someone enters your organisation's name in its search engine, the information you have provided will be displayed. You can also see reviews of the business.
For instance, searching for CyberGuru provides the following: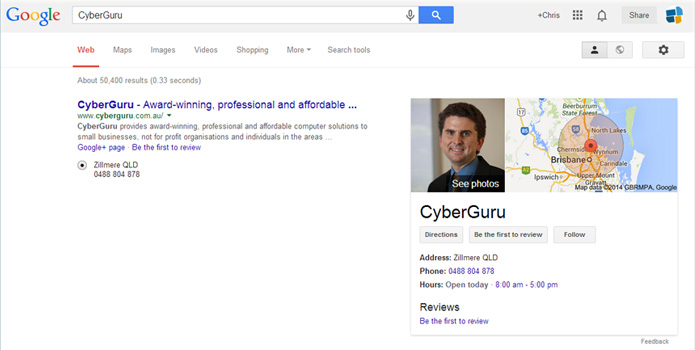 Speaking of Google, CyberGuru has recently furthered its social networking presence by posting links to our CyberGuru Blog articles on our new Google+ site (link opens in new window) which can be found at http://www.google.com/+CyberGuruAu (link opens in new window).
If we can help your business get online with Google My Business, please contact us today to enlist our Design solution.