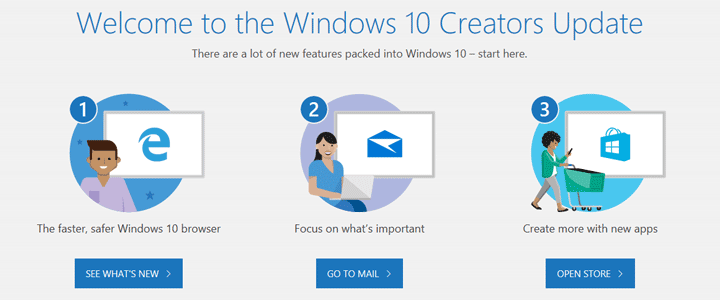 Since Windows 10 Creators Update was launched earlier this year, we have seen a number of computers being upgraded progressively and more recently larger numbers being upgraded. Following Microsoft's announcements when Windows 10 was launched, regular updates are being introduced to provide new features as part of the product.
When you are about to receive the update, you will be prompted to review your security settings before it downloads and installs onto your computer automatically in most cases.
In addition to security and reliability enhancements as part of Windows 10 Creators Update, a number of new and improved features in Windows and the apps were introduced. These include:
Paint 3D – an app providing you with the ability to create 3D objects from scratch or modify another person's.
Remix 3D – an online community for sharing, editing and remixing 3D models produced in Paint 3D.
Blue light reduction – reduces the "blue light" emitted from your screen during the evening.
Microsoft Edge, the successor to Internet Explorer web browser – adds the ability to review, group and save web page tabs.
For a full list of what's new in Windows 10 Creators Update, please visit the Microsoft Windows features (link opens in new window) page.
Microsoft also removed some features and others are planned for potential removal in subsequent releases, as noted in this Microsoft Support article (link opens in new window).
To check whether Windows 10 Creators Update is installed on your computer, please follow the steps below:
From the "Type here to search" or "Ask me anything" box, type winver and press Enter to run the command.
The About Windows dialog box will be displayed.
If it shows Version 1703, then you are on Windows 10 Creators Update.
(The notation of the version is signified by the year and month, for example 1703 which is March 2017 which was for the Windows 10 Creators Update).
If it hasn't been installed, it is possible your computer is awaiting to receive the update or in some cases, or is incompatible with this update. Either way, CyberGuru are able to advise and assist you if you are eligible for an upgrade to Windows 10 Creators Update, you how you can so with minimal downtime. Please contact us if we can be of any assistance.