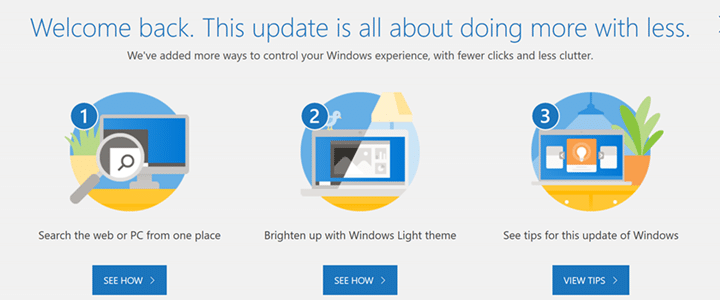 It's been a while coming, but the Windows 10 May 2019 Update is finally on its way to computers around the world.
Microsoft has announced that as the Home and Pro editions of Windows 10 April 2018 Update (version 1803) will reach end of service on 12 November 2019 they will begin updating devices running this as well as earlier versions of Windows 10 to ensure that they can continue to service these devices and provide the latest updates, security updates and improvements.
Every year, Microsoft releases two majority updates for Windows 10, being generally in April and October, however, the latest one, Windows 10 May 2019 update has arrived later than expected.
As per the Windows Experience blog (link opens in new window) article, for those Windows 10 devices "that are at, or within several months of reaching end of service, Windows Update will automatically initiate a feature update; keeping those devices supported and receiving the monthly updates that are critical to device security and ecosystem health".
Some of the new features introduced in Windows 10 May 2019 Update include:
Windows Update itself: Windows will seek your permission before installing the major updates (ie. the next October 2019 Update) and Home users can pause updates for up to 35 days (in seven-day periods up to five times). Microsoft provides greater control as to when you wish to install the update and will no longer do so without your permission. You will have approximately 18 months until it will eventually force the update.
Troubleshooters: Windows 10 has increased further troubleshooting options for this update. It will provide recommended troubleshooting guidance if required, as well as assistance when you are in trouble. Of course, we are always happy to help with that! In addition, Windows Security is also improving but we would still recommend internet security software for your computer.
Passwordless login: One interesting announcement as part of this update is Microsoft's promise to remove passwords, by replacing them with a PIN or prompt on your mobile phone.
Dark mode (light mode): One popular enhancement we are seeing across many apps and websites these days is to introduce a "dark mode" to darken how the interface appears. This includes the start menu, task bar, Action Centre, notifications as well as other areas. In addition, there is also a "light theme" also.
Start menu: Microsoft has also reduced the number of programs appearing on the Start menu, making it easier to remove out-of-box apps which you may not use (such as Candy Crush, Xbox Console and Groove Music). This will allow you to also have a smaller start menu, down to a single column. There are changes to separate Cortana and search also.
Usually in the subsequent months, we receive calls from our clients who advise they have seen a particular change or looks different to what they are familiar with. If you are considering updating to the Windows 10 May Update, you may wish to review the new Windows release health dashboard (link opens in new window) which as advises on known and resolved issues
You will generally receive a notification when your device is ready to upgrade to the latest Windows 10 update, however we suggest waiting until at least a few weeks afterwards to iron out any issues.
If you need assistance to upgrading to this update, or would like consulting, support and training, we are happy to provide for this to small businesses, not-for-profit organisations and individuals. Please contact us for more information.
This article is also featured on the CyberGuru Blog.