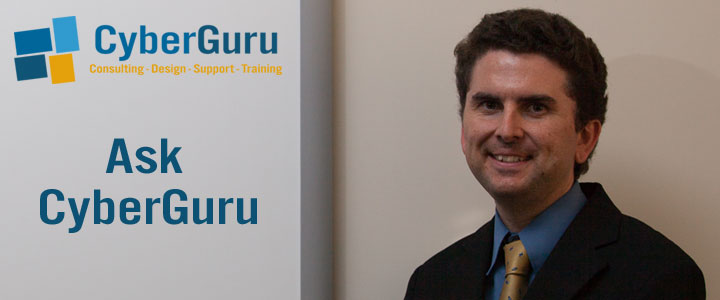 CyberGuru is often asked, "I am about to update the computers in my workplace. Does it come with Microsoft Office and what version does it come with?". This is a common question that is asked by many especially upon the purchase of a new computer and one we are happy to address in detail!
There is a misperception that Microsoft Office is included a part of Microsoft Windows. There may be a trial or limited edition included with a computer, but Windows and Office are two different products by Microsoft. Generally, they are bought together when a new computer is purchased as computer manufacturers may bundle them as part of an offer. Another common misperception is that when Office as originally bought it is owned but in fact it is only a licence that is granted, not ownership of the product. This means they can often not be transferred between devices.
Essentially, Microsoft Office 2016 (and earlier versions) is bought once as a fully licenced product, usually from retail stores at the same time as the purchase of your computer. This means you can use the same version of product without the need to renew a subscription for the life of the product (which Microsoft commonly refers to as "perpetual" licencing). The individual Microsoft Office products, such as Word, Excel, PowerPoint, Outlook, Access and Publisher can be purchased separately or together. If the entire suite of Microsoft Office products is purchased through via a Home & Student, Home & Business or Professional edition, a significant discount is offered. However, you can only purchase it individually for each device, and you cannot upgrade between versions and generally not move the licence between devices.
Microsoft Office 365 changes the purchasing model altogether. Rather than purchasing outright, you can purchase a monthly or yearly subscription, which provides you with the latest version which you can generally install or transfer between devices. Microsoft Office 365 entitles you to ongoing upgrades for as long as you have this subscription activated. When a new version comes out, as has recently occurred with Office 2016, this is distributed to users automatically. Depending on the version you require, you can purchase two different types of Office 365 subscriptions – one for home use, and the other for organisations, including schools and workplaces. Depending on the type of subscription or edition purchased, it may provide you with use on either one or up to five devices.
CyberGuru is happy to discuss individual requirements with any organisations looking to upgrade to Office 2016 or Office 365 ensure they are making the best purchasing decision to meet their needs and budget. Please contact us today for further information.