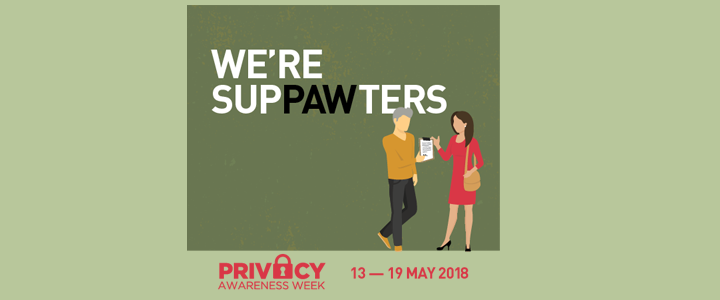 CyberGuru is proud to be again a supporter of this year's Privacy Awareness Week (PAW). This PAW is all about promoting privacy as part of everyday business. Running from 13 to 19 May, the theme "Privacy: from principles to practice' focuses on the need for organisations to develop and reassess systems, processes, culture, and practice to make sure the protection of customers" personal information comes first.
Your privacy and personal information is valuable to us, which is why we are a PAW 2018 supporter. To help you understand how we handle personal information, we:
Having our displayed privacy policy informing you how we handle your personal information, including collecting only required information necessary to provide our products and services to you and not sharing your information with third-parties unless consent is provided.
Ensuring our website and email communications are secure and protected using HTTPS, SSL and encryption technologies.
You can get involved in PAW by discussing privacy with your customers and staff and taking steps to handle your personal information with care. Here are a few quick tips you can use today:
Review the privacy policy of any new app or website where you enter personal information.
Use passwords with a combination of letters and numbers, which aren't easy to guess that are over eight characters.
Check the privacy settings on your social media profiles and change them to your preferences.
Respect other people's privacy – ask for permission to post images or videos where they are Identifiable.
Check for the padlock symbol and "https" at the start of a URL – this indicates that the website is secure.
If you would like to find out more about PAW and how your organisation can protect your customers' personal information, we encourage you visit the PAW website. If CyberGuru can assist you in implementing the suggested practices, please contact us.