CyberGuru's Christopher (Chris) Jeffery, Chief Guru, was recently presented with the 2023 CompTIA ANZ Future Leader Spotlight Award for "for his success and innovation in advancing the technology industry."
The Future Leader award is "given to a young professional who is making their mark within a CompTIA Corporate Member organisation, who has shown success or originality as an entrepreneur, or has made an industry impact in some other demonstrable way".
Chris Jeffery is an original young entrepreneur who started in business some 26 years ago (before Google). He started CyberGuru in 1997 at 14 years of age, in his family home whilst a student at St Joseph's Nudgee College. Chris then graduated from Australian Catholic University, then undertook various government roles before taking the leap to operating his business full time in 2013. Chris supports small to medium sized businesses and not-for-profit organisations with their Information Technology (IT) needs with a strong focus on productivity and cyber security.
Cyber security is becoming an important aspect of all types of businesses and organisations to be aware of. CyberGuru based on the north side of Brisbane, plays an important role by providing reliable and effective IT solutions, protecting and reducing the likelihood and impact of being affected.
Chris said, "Throughout my life and career, I have always strived to be an advocate for the IT industry and ambassador for our clients by living a life of service. I thoroughly enjoy helping people and seeing how much IT improves their productivity. In particular, our not-for-profit clients where our work enables them to better support their community."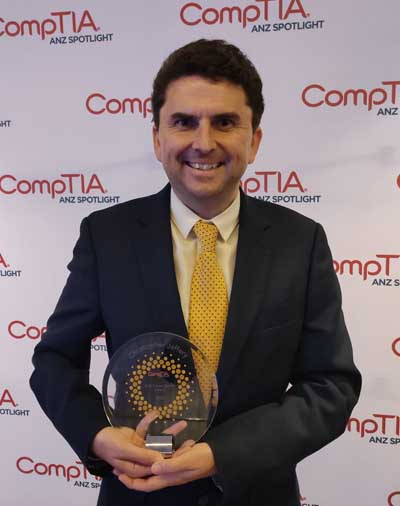 CompTIA is a nonprofit trade association and leading IT certification provider for the industry and its workforce.
Judging was done by a panel of volunteer leaders from other CompTIA communities outside the ANZ region. Nominees were evaluated on their positive impact on the tech industry; contributions that support CompTIA's mission to advance the tech industry; and actions and initiatives that demonstrated leadership in their respective award category.