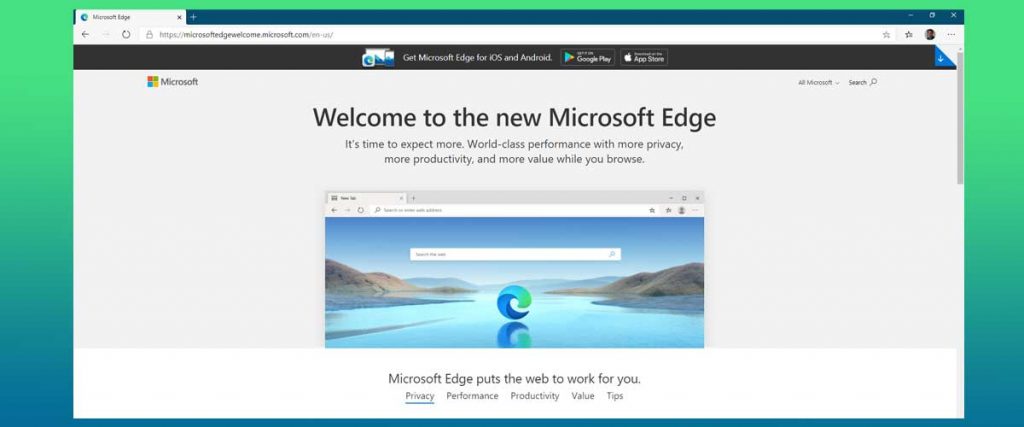 As you may have recently noticed when you started your Windows computer recently, you have the new Microsoft Edge. This new and improved web browser is now based upon Chromium. For those of you thinking the name sounds a lot like the Google Chrome web browser, that's because Microsoft Edge was rewritten and now uses the same backend code Google Chrome.
This is the biggest upgrade of a Microsoft web browser for a long time, and for those of you who already use Microsoft Edge the difference between it and Edge Chromium is immediately apparent.
Some of the new features in Microsoft Edge Chromium are:
Faster browsing. Reports of improved speed and performance have been considerable, with many advising it provides an extra "edge" over competive website browsers
The ability to create multiple profiles such as work and personal, so you can separate your work use from your personal use. Also, if the device is used by more than one person you can create profiles for each staff or family member without the need to create multiple Windows accounts.
Tracking prevention to prevent websites collecting your information.
Whilst Microsoft will maintain its own store, the new Edge also supports Google Chrome and Mozilla Firefox extensions if one hasn't been written for Edge as yet.
Progressive web apps which enable you to use web apps enhanced with app-like features such as installation, offline access and notifications, such as Office within the browser.
Immersive Reader, a reading view which declutters the web page so you can concentrate on reading the website content. There is also a Read Aloud button to have the voice function read the text aloud to you.
A dark theme, similar to dark mode, enabling the user to read light on dark instead of dark on light.
Collections, designed to collect images, text, videos and anything else you can drag and drop from a website.
Ongoing development and improvement of the browser is assured. Some of the features noted to coming soon is a Password Monitor, Vertical Tabs and Smart Copy.
It works across various platforms, including iOS, MacOS and Android.
Microsoft Edge can be downloaded free of charge from Microsoft's website (link opens in new window), although we understand that many people will be gradually upgraded to Chromium automatically as part of a Windows Update.
Internet Explorer 11, the predecessor or Microsoft Edge, continues to be supported for now, although there will be no new features added so Microsoft would prefer it be used on an as needs basis as opposed to being used as the primary web browser.
If you are familiar already with the previous Edge, or using Chrome and Firefox, there are some subtle differences. However, you can convert their bookmarks and preferences across and can adjust settings and your preferences easily as well.
Are you using the new Microsoft Edge? If so, what are your favourite new features? If you aren't, then we suggest you try it! If we can assist in any way, please let us know.