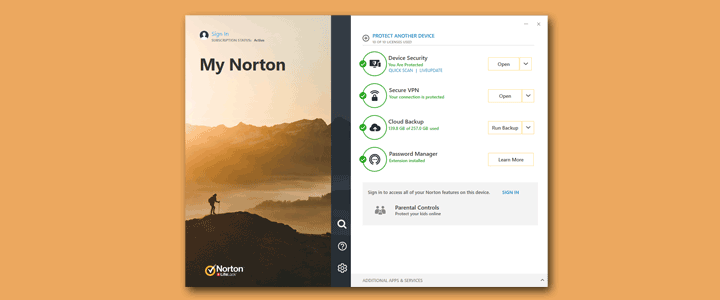 Norton has recently reintroduced the "new" Norton 360, replacing the Norton Security which has existed over the past few years, which had replaced the product of the same name form many years prior.
In the "new" Norton 360 product, Norton has introduced additional security protection as well as the usual computer and internet security, cloud backup and performance improvement features. It now includes a Secure VPN for online privacy, Dark Web Monitoring by LifeLock (which monitors your primary email address), and SafeCam to block webcam takeovers. The remainder of the product is relatively unchanged from Norton Security, aside from a new front "My Norton" screen that starts when you load the application.
If you have an existing Norton Security subscription, you may be offered a free or discounted upgrade to the new Norton 360 as a special offer. Should you do this, you may be required to sign up for automatic renewal and provide your credit card details for verification. Alternatively, you may wish to wait until your subscription falls due before you upgrade and purchase this product then.
Here at CyberGuru, we have used and recommended Norton products continuously over the last 20 years which has provided ourselves and clients confidence that their devices are protected from internet security threats and vulnerabilities. This recommendation is based on our own experience with the software, not because we are paid to do so. We appreciate some clients have experienced various performance issues with such software, however such internet security software is worthwhile overall considering given the strong value it provides for a reasonable yearly subscription.
If you would like us to assist you to purchase, install or configure Norton 360 in your environment, please feel free to contact us.