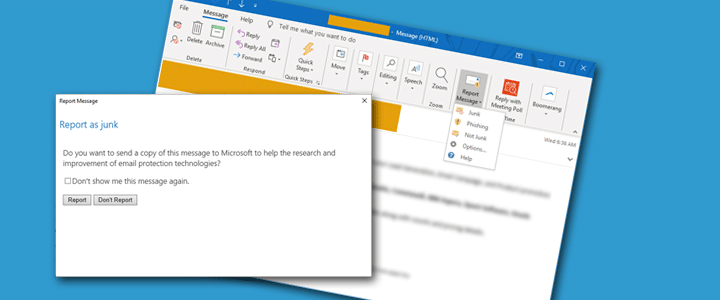 Whilst the inbuilt spam and malware filtering built in to Microsoft Office 365 has considerably reduced the amount of unwanted spam email you receive in your email account, a small amount spam can still arrive, or an email may be mistakenly marked as junk when in fact it is legitimate. Fortunately, Microsoft has an addon you can use to further reduce the amount of spam or stop legitimate emails from being marked as junk by reporting this back to them.
Known as the Report Message add-in for Outlook, it enables you to report emails using one of three categories:
Junk is generally referred to as spam and are unwanted senders that may be advertising their products or services to you.
Phishing is a person or organisation claiming to be someone else to seek your personal information. The email may appear to be legitimate but in fact is not.
Not junk is a legitimate email which has been misclassified as Junk.
The Report Message add-in for Outlook can be used on both Outlook and Outlook on the web and enables you to report a message as either junk, phishing or not junk. You can also choose to report the message to Microsoft for further review and investigation.
We encourage our clients who are experiencing spam issues to look at implementing this as part of their cyber security strategy.
For more information and how to set this up, please feel free to contact us.