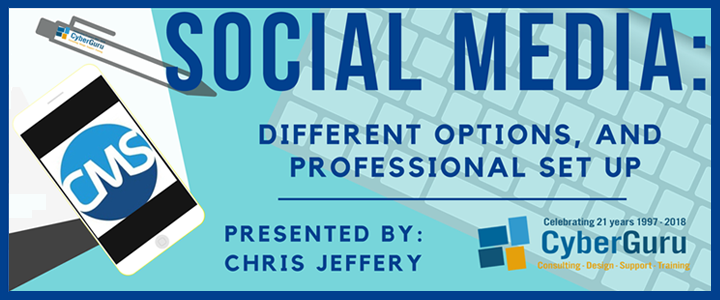 According to the 2018 Yellow Social Media Report*, just over 50% of Australian small and medium businesses have a social media presence. With an increasing number of users are seeking information in this way, an active social media presence is becoming increasingly important.
Presented by Chris Jeffery, Chief Guru of CyberGuru, this webinar will give you with the tools to:
Know what social media is suitable to your organisation,
How other organisations use social media to further their businesses/causes,
How social media can benefit your organisations,
How to make it work for you, and
Where to go for help.
CyberGuru is a Community Management Solutions Corporate Partner and has been operating in Brisbane Northern Suburbs for 21 years, providing ICT services to small businesses, not-for-profit organisations and individuals in the areas of consulting, design, support and training.
Cost: Members: Free | Non-members: $35
Date: 15 November 2018 | Time: 12:00pm
Please visit the Community Management Solutions Facebook page or contact Community Management Solutions Member Services today for more details on 1300 007 110 or sh***@cm*********.au.
* Source:Yellow – Social Media Report 2018 – Businesses (link opens in new window)