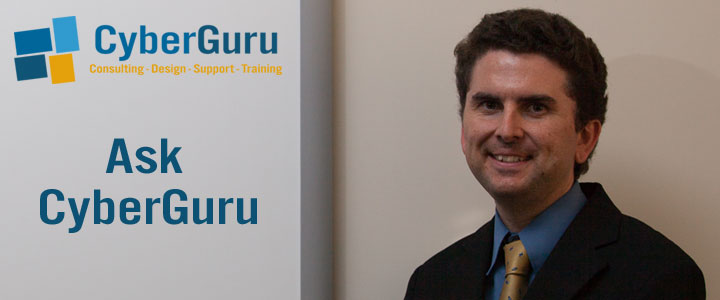 In the latest instalment of Ask CyberGuru, we are asked, "I've looked on my computer and see different types of backup programs installed. What is the difference between File History and Windows Backup?".
There is a history and a backing up (pardon the puns) of Microsoft backup products which have been included in Microsoft Windows over the past fifteen or so years. In order to accommodate the various needs of its uses, Microsoft has two products installed on Windows 8.1 and Windows 10 – File History and Windows Backup.
File History was introduced in Windows 8. Similar to Apple Time Machine, it takes a regular backup (typically hourly by default) of your desktop, documents, music, photos and videos and other files contained in your user folder. In Windows 10, it allowed access to add other folders. It allows you to easily revert to an earlier saved version of a particular copy of a file over time.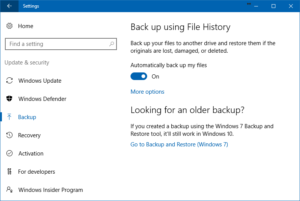 Windows Backup (also known as Windows Backup and Restore) has been included with most versions of Windows since the earliest versions of Windows. Windows Backup was removed in Windows 8 upon the introduction of File History, but then subsequently returned in Windows 8.1 as Backup and Restore (Windows 7). Along with backing up your files in your user folder, it has the ability to do system recovery, such as backup entire drives, create system images and repair discs should your computer stop working or not be able to start.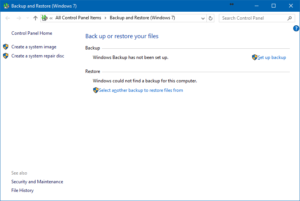 When developing a backup strategy, CyberGuru will consider your specific requirements when developing a solution for your data recovery needs, which may include Windows Backup and/or File History, along with a third-party product should your needs be further than what these products provide, such as providing the ability to backup to multiple destinations or email notifications of the success or failure of backups.
CyberGuru can work with you in determining the most optimal backup solution for your needs. If we can assist in any way, please contact us.