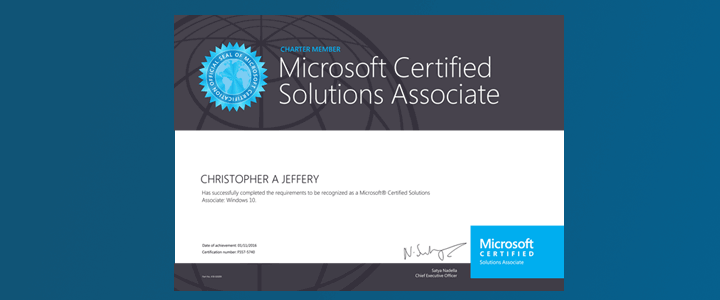 At the beginning of 2016, CyberGuru Proprietor/Chief Guru Chris Jeffery achieved his first goal for 2016, becoming one of the first in the world to obtain his Windows 10 Charter certification!
The Windows 10 certification is achieved through rigorous preparation, study and successful performance in an exam, where Chris successfully obtained his Microsoft Certified Solutions Associate in Windows 10. In doing so, he also obtained his Microsoft Specialist certification in Configuring Windows Devices. Charter certification indicates that was achieved within six months following the release of the certification.
This marks his fifteenth Microsoft exam completed successfully. Chris has also achieved Microsoft certification including Windows 7, Windows 8, and now Windows 10. For clients who are looking for consulting, supporting or training in these versions of Windows, Chris has the knowledge, skills and experience in these each of these versions.
If you would like to know more about Windows 10 and how CyberGuru can deliver this to your organisations, contact us today.