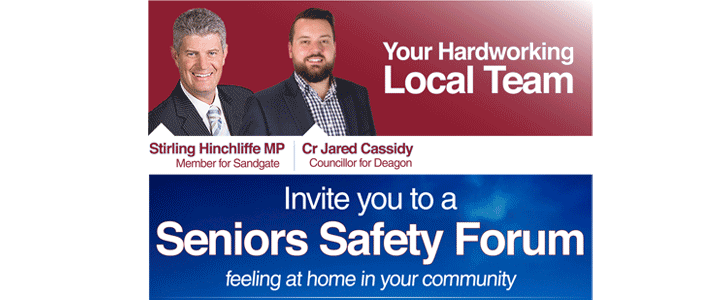 CyberGuru's Chief Guru, Chris Jeffery will present at the Seniors Safety Forum being hosted by Stirling Hinchliffe MP, Member for Sandgate, Cr Jared Cassidy, Councillor for Deagon Ward, and Leanne Linard MP, Member for Nudgee on Wednesday 4 October 2017.
Chris Jeffery is an 2017 Advance Queensland Community Digital Champion and recently celebrated 20 years of operating his own computer solutions business, CyberGuru which provides ICT consulting, design, support and training to small businesses, not-for-profit organisations and individuals.
Chris is an invited guest speaker at this event, discussing digital security and how to protect yourself from online scams. Other guest speakers include Federal Member of Lilley, Wayne Swan MP as well as other representatives discussing the safety and security of seniors in our community.
There will also be an opportunity to meet with your local representatives to discuss safety in the home and in the community, focussing on issues pertinent to seniors in the local area.
The Seniors Safety Forum is being held on Wednesday 4 October 2017 at 9.30am-11.30am in the Taigum Shopping Centre.
Please RSVP by making contact with either Stirling Hinchliffe MP or Cr Jared Cassidy's offices by COB 2 October 2017.
Stirling Hinchliffe MP Phone: 3639 9100 Email:

sa******@pa********.au

Cr Jared Cassidy Phone: 3667 6011 Email:

de*********@bc*.au