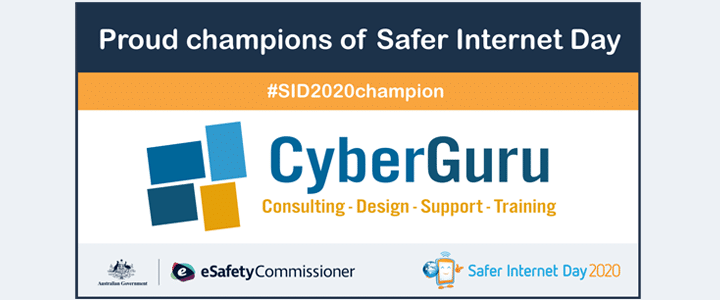 Today is Safer Internet Day, a global event to raise awareness about online safety and encourage people to help create a better internet. At CyberGuru we have dedicated many blogs on how businesses can stay safe online so to celebrate Safer Internet Day we've decided to talk about keeping families safe online. In giving our kids access to technology it is important to ensure the device is secure and consider the use parental control software to protect against adult content. Less obvious but just as important is the need to talk to our children about how to stay safe online.
This year to celebrate Safer Internet Day the eSafety Commissioner has released an array of resources to help parents have this conversation with their children (link opens in new window). Resources are split into two age groups for children (aged 5-12) and teenagers to give you age appropriate advice. The eSafety Commissioner is also holding a series of webinars this week (link open in new window) on this topic. To register, please visit and sign up for children-focused webinar or teenager-focused webinar.
Furthermore, the eSafety Commissioner has released its top five online safety tips for children:
Set up your device to protect.
Explore safely & tell an adult if you see anything online that makes you feel yuck.
Limit who can contact you when you're playing games.
Stop all contact with anyone online who asks you to do anything you don't want to do. Report and block them.
Ask for help if anything online is bothering you.
The eSafety Commissioner has also released its top five online safety tips for teenagers:
Think of others' feelings before you post, like or share content.
Ask for permission before you share a photo or video with someone else in it. Respectful online relationships start with consent.
Be an upstander. Speak up if you see someone cyberbullying or sharing nudes in a group chat – let them know that's not okay. Report and delete it.
Use privacy and screen time settings to take control of your digital life and its impact on your mental health.
Ask for help. Cyberbullying and sharing intimate images without consent can be distressing, but eSafety can help remove them.
At CyberGuru we are happy to help parents ensure that devices are secure and discuss your needs and options regarding parental control software, but we strongly encourage parents to start a conversation with their kids about online safety. This week we will be talking to our (nearly) five year old daughter about talking to us if she ever sees anything online that makes her feel yuck. What will you talk about?