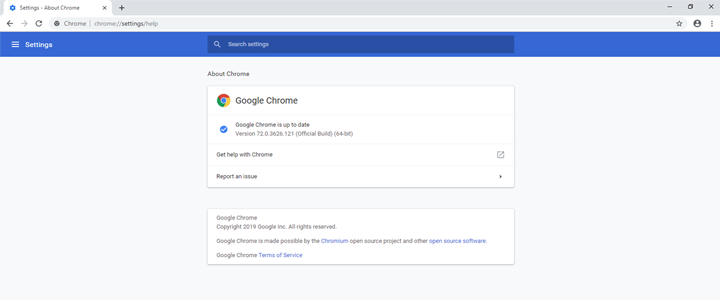 On Friday 1 March, Google announced it had discovered a Zero-Day Vulnerability "CVE-2019-5786" in its Google Chrome browser. It's time to update your Google Chrome browser!
Whilst only limited details have been published on the Chrome Releases blog, it is strongly suggested that you update Google Chrome if you are using this as your browser.
It is important to check you are running the latest version of Chrome, which at the time of writing is 72.0.3626.121.
To check for and install updates in Google Chrome on the PC or Mac:
Click on the three vertical dots on the right-hand side near the address bar.
Point to Help and click About Google Chrome.
This should then check and install updates, which may take a few minutes depending on your computer and internet speed.
If it has performed an update, you may need to relaunch Google Chrome to finish updating. If it says "Google Chrome is up to date", you are good to go.
If you are running Google Chrome on your mobile phone or tablet, you should do this as well. Go to the Google Play Store or iTunes Store to download and install the required update.
This is a good reminder to always keep your computer's software and devices' apps up-to-date with the latest security updates. If you are looking for assistance with this, CyberGuru provides a computer maintenance service where provide scheduled proactive review and upkeep of your ICT environment and keep it up-to-date on your behalf. We can do this both face-to-face and remotely depending on your requirements. Please contact us for more information.