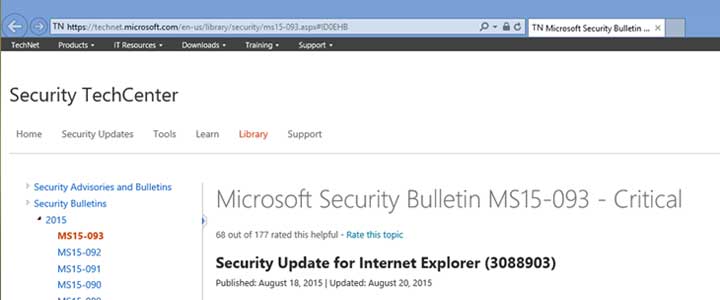 Microsoft has provided details of a critical security update required to address a vulnerability in Internet Explorer which affects all versions from 7 to 11, running any Microsoft operating system introduced since 1999, including Windows Vista, Windows 7, Windows 8/8.1 and 10.
According to Microsoft Security Bulletin MS15-093 (link opens in new window), "this vulnerability could allow remote code execution if a user views a specially crafted webpage using Internet Explorer. An attacker who successfully exploited this vulnerability could gain the same user rights as the current user. Customers whose accounts are configured to have fewer user rights on the system could be less impacted than those who operate with administrative user rights."
This security update is rated critical for all versions of Internet Explorer from 7 through to 11, on a wide range of operating systems including Windows Vista, Windows 7, Windows 8 and Windows 8.1, as well as Windows 10. It also affects as Windows Server 2008 and Windows Server 2008 R2. However, you can check if your software is affected please visit Microsoft's Security TechCentre (link opens in new window).
It is strongly recommended you install the critical update which is available through Windows Update immediately to ensure you remain secure and protected. Most CyberGuru clients will receive this update automatically if Windows Update has been configured in this way. However, if do not have Windows Update installing updates automatically, you can download the critical security update from the Security TechCentre also.
Even if you run another internet browser, it is important to download and install this update. It is also consider also any computers you may have connected to the internet, such as servers, desktops as well as own laptops and tablets.
If you require any assistance, please feel free to contact us through our Support solution.