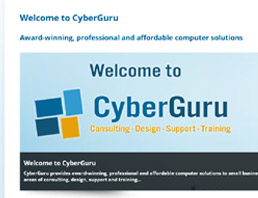 CyberGuru has recently launched our new website, featuring a modern look and enhanced features, along with a new content management system.
We are proud of our new website which brings us again at the forefront of award-winning, professional and affordable computer solutions.
The CyberGuru website features all of the material from our previous website, as well as integrating the CyberGuru Blog. In providing a more interactive experience for our clients, social networking features including links to our follow us such have also been added, along with the ability to share content and review our latest Twitter feeds.
The new website has been developed using WordPress, the content management system behind many commercial and not-for-profit websites. We selected this system for ourselves as we also recommend it for our clients choosing to have a dynamic website. We are taking advantage of the opportunity to 'test' new features within our website and provide our clients with our learnings throughout our experiences.
We invite you to check out our new website, and encourage us to please contact us with us any feedback you may have.