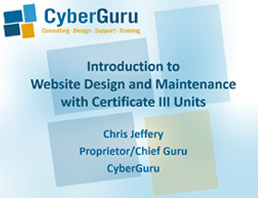 In conjunction with the Teacher Training Association, Chris Jeffery, Proprietor/Chief Guru of CyberGuru, will be soon presenting an "Introduction to Website Design and Maintenance with Certificate III Units" training course.
The course will provide participants with the ability to design and maintain websites, gain practical advice and undertake hands-on activities as well as the knowledge and capability to deliver and assess relevant units of competency. Individuals or schools seeking to receive or deliver ICA30111 Certificate III in Information, Digital Media and Technology to senior students will benefit from the focus on web technologies and will receive evidence towards four units of competency.
This course isn't just for teachers, people of all ages and experience levels who are interested in designing and maintaining websites for themselves or their organisation will benefit from the information provided.
The course is being held on Monday 13 May 2013 from 9:30am-3:30pm at VELG Training at Level 1, 52 Jeffcott Street, Wavell Heights.
Please note the venue has changed to Mabel Park State High School, located at 72-116 Paradise Road, Slacks Creek.
The cost is $299 (ex. GST) which includes materials, morning tea and lunch.
For more information, please download the flyer (link opens in new window) and course outline (link opens in new window).
To register, please visit the TTA website (link opens in new window). Places are limited so register now. 
Biography of Chris Jeffery, Proprietor/Chief Guru of CyberGuru:
Chris is an accomplished business and information technology professional. He has operated his own business, CyberGuru, for over fifteen years, providing computer solutions in consulting, design, support and training. Chris holds a dual degree in Business and Information Systems, as well as a range of industry certifications and has become a Microsoft Certified Professional. He has most recently worked as the IT trainer for CITEC in the Queensland Government, where he designed and facilitated training programs in a range of computer applications, systems and processes. He was recently awarded the 2012 Young ICT Professional of the Year by the Australian Computer Society Queensland Branch.