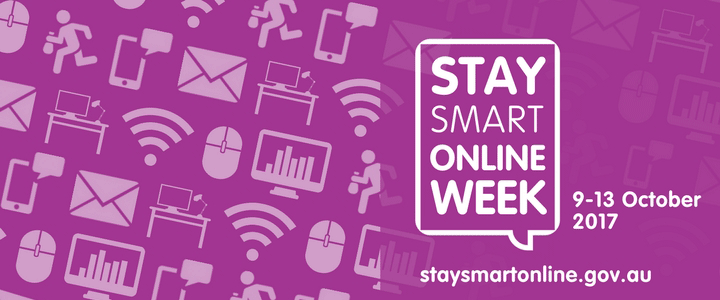 CyberGuru was a proud partner of the Stay Smart Online Week 2017, an initiative of the Australian Government which ran from Monday 9 October to Friday 13 October.
Each year, through Stay Smart Online Week, the Australian Government works in collaboration with other agencies, industry, community groups and small business operators such as CyberGuru to raise awareness about the ways people can protect themselves onlineThe national awareness week is typically held in October each year and focuses on a key theme that highlights an important safety message. This year, Stay Smart Online week will took place from 9–13 October and the them brought was 'simple steps to online safety'.
A selection of educational videos were developed especially for Stay Smart Online Week 2017 and are available on the Stay Smart Online website and Facebook page. By having more people aware of the simple steps they can take to be safe online, the internet will be safer for everyone.
In their recent report, Stay Smart Online noted that, "in the last 12 months we have seen a real shift in cyber activity, and more people than ever are at risk of cybercrime. The Australian Cyber Security Centre Threat Report 2017, launched during the week, shows 47,000 cyber security incidents were reported nationally in the 2016–17 period, a 15% increase on the previous year."
In addition, the Australian Competition and Consumer Commission (ACCC) Scamwatch figures found that $37 million has been lost by Australians have already lost to online scams since the start of 2017.
We encourage you to sign up for the CyberGuru Newsletter to be informed of developments and sign up for the Stay Smart Online Alert service to continue to be advised on current cyber threats and how to manage them.