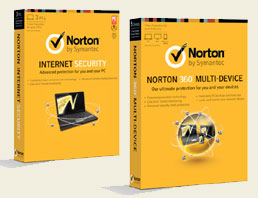 As part of the Symantec Spring 2013 rebate program, you are able to obtain a $30 cashback for Norton 360 and Norton Internet Security if you purchase and activate by 23 September 2013.
As noted on the Symantec Norton $30 Rebate website (link opens in new window):
If you purchase one of these retail box products:
Norton 360 Multi-Device v1 for 3, 5 or 10 Devices
Norton 360 v7 for 3, 5 or 10 PCs
Norton Internet Security 2013 for 3, 5 or 10 PCs
Norton Internet Security for Mac
from any Australian or New Zealand retail store between July 22, 2013 and September 23, 2013 inclusive you can claim a $30 rebate from Symantec.
Claims close at 11:59pm AWST on September 23, 2013.*
We strongly recommend to all clients that a suitable internet security software for computers as well as smartphones and tablets. Our preferred software is Norton 360 Multi-Device which provides protection for a range of operating systems including Windows, Macs and Androids.
CyberGuru receives no payments or commissions for the purchasing of Norton products. This information is provided as a suggestion and not an endorsement.
If you have any questions or require any assistance in purchasing, installing or upgrading your internet security package, please contact us.